18. November 2021 |
Press release
SAUTER NRFC4, the compact air conditioning thermostat
Operating device and controller in one: The new thermostat from SAUTER is a multi-talent for air conditioning systems. It has a customisable display with large numbers and user-friendly button operation and there is also a communication interface to the building management system.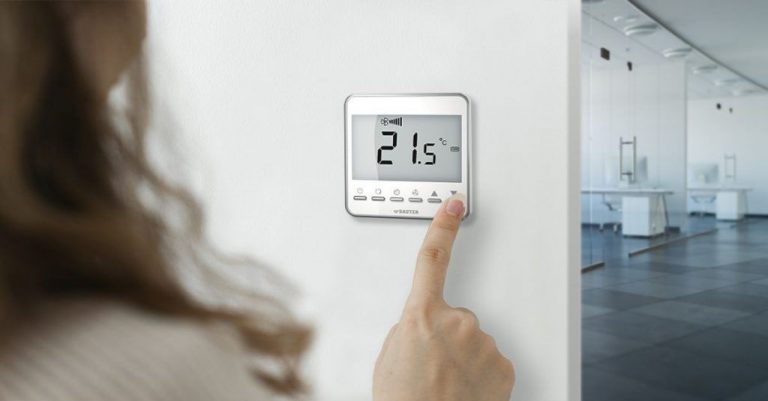 The hot summer months are the busiest time for air conditioning systems. Sensitive people often associate this with nothing more than an ice-cold blast from a fan, but a well-adjusted system ensures constant, healthy indoor air quality – and not just in summer. This is done using fan coils; the actual air conditioning devices.
Fan coils can be controlled by thermostats. SAUTER is launching the NRFC4, a single-room controller for air-conditioning systems in commercial or residential buildings. The new thermostat can be used for a wide range of fan coil applications: 2-pipe or 4-pipe systems, two-stage heating systems or water-based heat pumps.
Intuitive and simple operation
The NRFC4 makes it easy for users. The compact housing can be easily mounted on the wall and commissioning requires no programming at all. A large, configurable, backlit display provides comfortable control of the air conditioning system. Values are displayed in large, easy-to-read figures.
Energy-efficient control of room air quality
An integrated timer switches the air conditioning on and off according to use. The internal temperature sensor eliminates the need for additional sensors in rooms. The Modbus RTU interface completes the spectrum of the NRFC4. This communication protocol enables, for example, integration into a building management system for simple commissioning and monitoring of the installation. This ensures energy-efficient control of indoor air quality based on precise ambient values and demand.
The NRFC4 is available now. Get in touch with our Sales Department.